2015 Web Summit Impressions
Date: 9th November 2015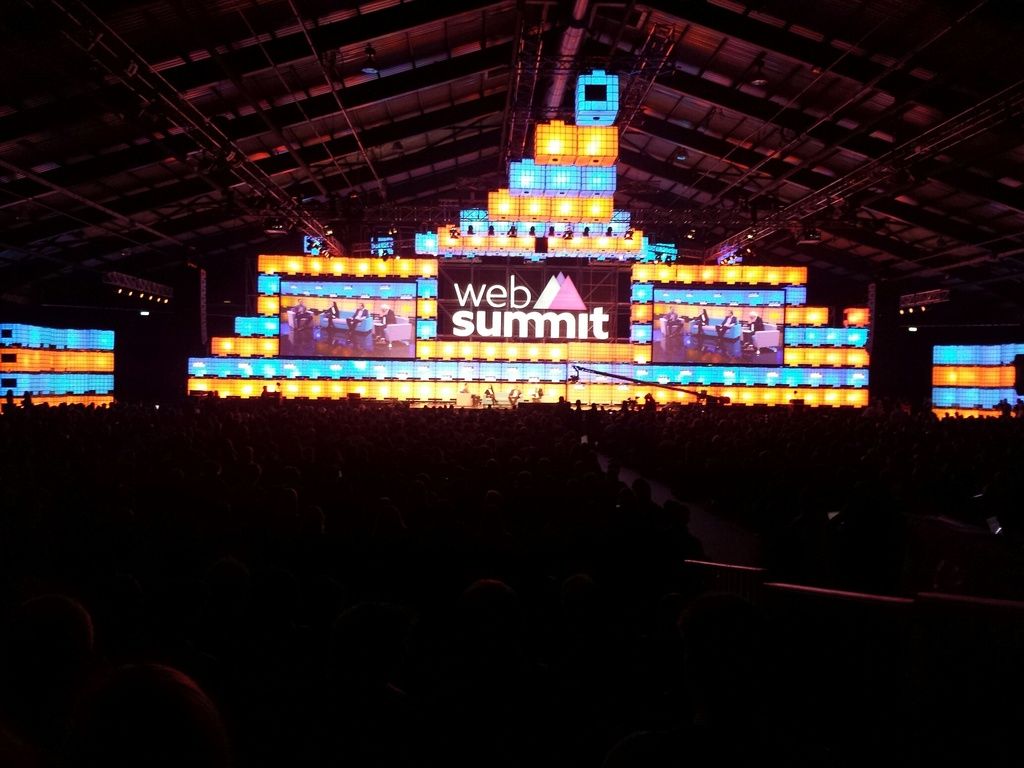 When we applied to attend the 2015 Web Summit in Ireland last week we really had no frame of reference to determine what we should expect. Two days after we had submitted our application, we received an email indicating that we would need to pitch over the phone for 15 minutes to one of the Web Summit staff. The phone call was scheduled at 5 in the morning with our project manager Jaeson Cardiff and the Web Summit contact Josh Collins. The conversation lasted 15 minutes and at the end of the conversation we were accepted to attend.
We were told that the discounted price to attend was 1950 Euros for the 3 days at the Royal Dublin Society building (RDS). The price seemed fair enough, but once again having never publicly displayed our technology, we had no idea what the "going rate" was to attend similar conferences. So we scrambled quickly to create printed media, rehearse our pitch and make travel arrangements. We had decided due to logistics that we would not be bringing the CARBiNX unit with us for the show. Hauling a 200 lbs piece of equipment to Ireland was just not feasible.
With one week to go and not a moment to spare we managed to pull everything together and take a moment to catch our breath and go over everything to make sure we hadn't missed anything. Then, out of nowhere we received an email from the Web Summit staff indicating that we had been selected to present our technology on a demonstration stage during the conference. Having already decided to not bring the unit with us, we were now torn between the potential of making an impact by showing our technology or keeping it in service reducing emissions in Canada. After speaking again with Mr Collins, we decided to bring the unit with us.
Bringing a 200 lbs piece of heating equipment with less than 7 days to depart required some creativity in order to succeed. If we used a shipping company, there was a pretty good chance that the unit wouldn't make it to the show. At a price of just shy of $1000, the gamble didn't make sense. Spending that much money only to have missed the show would be incredibly wasteful. The only other option was to bring the prototype on the flight over with us. One major problem with doing so had to do with the weight. Our technology weighs 202 lbs not including the crate we need to ship it in and the airline we booked with only allowed a maximum weight of 70 lbs. Creative indeed.
To start, we hired a skilled cabinet maker and carpenter (the project managers father) to build a case that could withstand the habits of the airport staff. In less that 24 hours Robert Cardiff had produced a magnificent wooden crate that was more of a fine piece of furniture than a rough shipping container. The crate was brought to our shop and the weight shaving began.
We started with the obvious stuff. The exchanger and pumps, 63 lbs. The distribution piping, 15 lbs. Reaction chamber, 27 lbs. All the unmentionable parts, 49 lbs. Add in 21 lbs for the shipping container and we sat at 69 lbs according to our scale. The control module and base would be shipped separately in our suitcases. We were set. Or so we thought. Upon arrival at the airport, the scales showed that we were in fact sitting at 73.6 lbs. 3.6 lbs over the maximum. They would not allow anything over 70 lbs. Not an ounce. So, with a flash of desperation we removed screws, crate wheels and an entire front crate cover at the airport terminal to get it to 63 lbs. Duct tape and bubble wrap held it in the crate. We were fairly uncertain as to what kind of condition we would receive it in once we arrived in Dublin.
12 hours later we arrived at Heathrow in London and were delayed 6 hours due to fog. It was as thick as pea soup. Luckily it cleared and after traveling for over 18 hours we finally arrived in Dublin. The prototype arrived with a few dents and scratches, but otherwise in one (or three) pieces. We registered at the airport and made arrangements to transport the CARBiNX to the hotel via a taxi.
The next morning we arrived at the Royal Dublin Society Hall (RDS), located near downtown Dublin. An older building crammed with people. It was a sea of pink and purple name tags, huge Web Summit signs and loud chatter. Time to shine. We walked into the building checked out the stage we were intended to demonstrate our technology on. Initially, we walked into the tent that housed the main machine stage. The tent was large and we all felt a bit overwhelmed at the notion of demonstrating on this stage in front of hundreds of people. After asking around however, we discovered that the stage we were asked to demonstrate on was a very small and unmarked area in the conference hall. We were somewhat disappointed. Not only was the demonstration area small and seemingly thrown together at the last minute, the only people paying any attention to the demonstrators, was other demonstrators. Having said that, the one very clear and saving grace, was the web summit staff managing the stage. Maeve Lavelle was a huge part in helping us "roll with the punches". She not only helped us navigate the demonstration area, but helped us find storage for our technology, introduce us to influential people, arrange for our meal during the time at our booth and helped us after it all ended with a pint at a local pub. The Web Summit organization is lucky to have her. Thank you Maeve.
Our second day at the summit was nearly a bust as well. We had been invited to meet with a Northzone Investor to discuss any possible partnership between CleanO2 and Northzone only to be told in less than 2 minutes that they did not invest in clean tech. This seemed rather odd considering they invited us. We still have no idea why we were asked to meet with Northzone. Fortunately, we had also been invited to the Canadian Summit being held to Canadian start ups across the street at a pub. This was not only a great place to unwind, but a great opportunity to meet with some Canadian talent.
Our third day, resolved any questions we had over the value of the Web Summit. We had people standing in line waiting while we spoke with others about our technology. Microsoft, Yolo, The South Group, Google, Onami, to name a few. All curious as to who we were, what we were doing and asking to speak with us after the conference. We were very happy with the sheer number of interested groups and individuals at our booth.
Prior to all of this, I noticed quite a few comments in various locations on the internet making comments regarding whether attending the Web Summit was worth the time and expense. I noted that the majority of the people who claimed it was a complete waste had also not claimed to have ever attended. The people who had been all seemed to be generally happy with the experience. We would align ourselves with these people in agreeing that the Web Summit is worth it. We took away from the summit, exactly what we put into it.
Posted in: Latest News
---
Comments
Add a comment
We are more than happy to hear your thoughts on what we've written. Please note that all comments will be moderated before publishing. Thank you for joining the conversation.