Our Story
We Make The World's First Carbon Capture Soap
Hello, we're CleanO2! Not just another environmentally friendly soap company, we're working to solve climate change, one soap bar at a time.  
Our founders — Jaeson Cardiff, Kathi Fischer and Scott Forgrave — invented a revolutionary device, CarbinX™, that captures carbon dioxide emissions from building heating systems and turns it into non-toxic pearl ash (potassium carbonate). 
As advocates of the circular economy (minimizing our burden on the environment by reducing, reusing and recycling materials), they weren't satisfied with simply capturing carbon. They wanted to upcycle it and put it to good use in new products. But what new products?  
The answer was soap and cleaning products. Simple and essential, these products are an easy way for customers to take action on climate change. It's about empowerment and the ability to make a positive step forward. What could be easier than lathering up with silky smooth CO2 sequestered suds?  
What Is Carbon Capture Soap?
It turns out that captured carbon, in the form of pearl ash, can be added to soap formulations to create luxuriously silky, sudsy lather. Voila!, the world's first carbon-capture soap, made with natural ingredients, ingenuity and pearl ash. Learn more about our carbon capture soaps.
How Does CleanO2 Produce The World's Only Carbon Capture Soap?
CleanO2 is the first company to turn carbon dioxide emissions into natural soap. We started in Calgary Alberta, and have since expanded to deploy CarbinX units across Canada, the United States and Japan. We've partnered with some of the country's largest companies who are committed to reducing carbon dioxide emissions. 
These astonishing CarbinX machines capture carbon dioxide from building heating systems — including boilers, water heaters and furnaces — that use natural gas. (Did you know that heating buildings accounts for 13% of overall carbon dioxide emissions in Canada, 12% of emissions in the U.S., and 7% of emissions globally?) Once installed, a typical CarbinX unit will have the same carbon-reducing impact as 300 trees!
Our Commitment To Sustainability
We are proponents  of circular beauty, which is the idea that great skincare can be a positive force in protecting the environment. There are the four principles that bring the term circular beauty to life (as outlined by one of our favourite natural beauty podcast Formula Botanica) and here's how we abide by them. 
1. Create Net Environmental Benefit

The main benefit of our technology is that it captures greenhouse gas, helping fight climate change. CarbinX units are also "economizers" and, through heat recovery, reclaim more energy than they use, thus consuming less natural gas. 

2. Reuse as Much as Possible

Roughly 70% of the beauty industry's carbon emissions are caused by packaging. Our packaging is made from cardboard and is FSC-certified, recycled and recyclable. We chose paper-based packaging because paper has a well-established recycling stream, so we rely less on single-use materials.

3. Work With Nature

CleanO2 makes every effort to responsibly source natural ingredients from sustainable suppliers. We are committed to making honest-to-goodness soap without chemicals that harm our customers or the environment. Our soaps are free of palm oil, phthalates, paraben, sulphates and artificial colours. 

4. Design Out Waste

Soap ends (leftovers from manufacturing) are donated to the charity Soap for Hope or repurposed into secondary products. 

After the soap is used, the carbon remains captured as pearl ash and does not revert to carbon dioxide.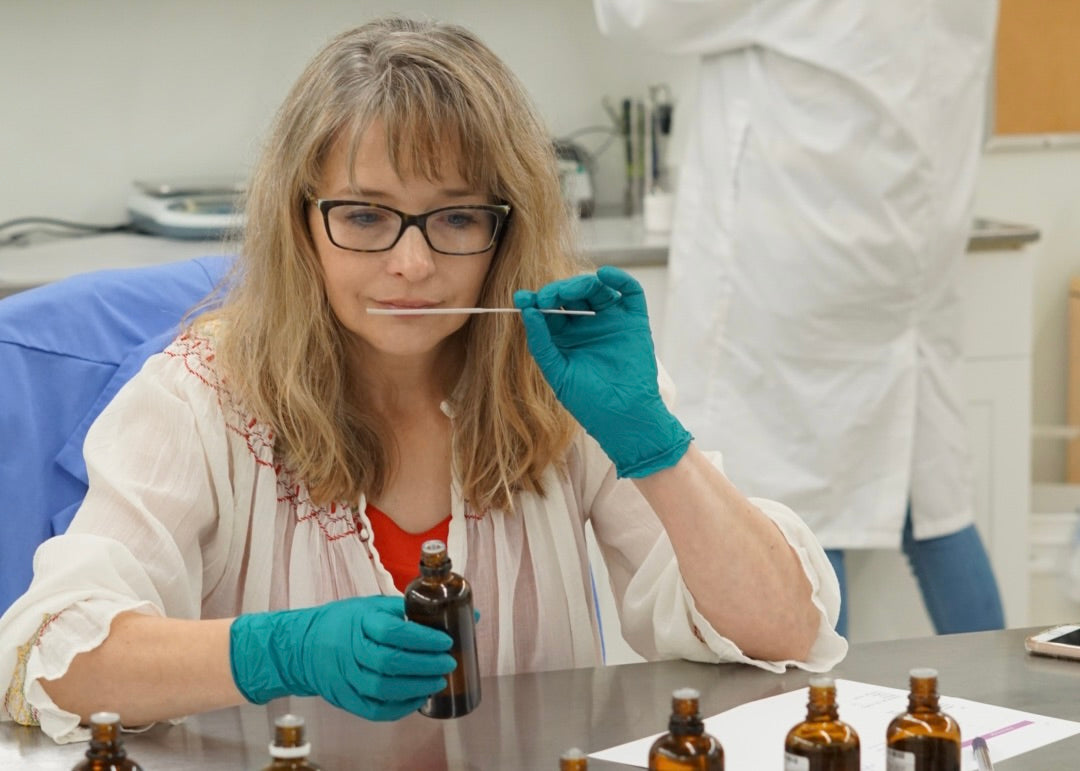 Say Hi to Michelle, Our Soap Master
Crafting beautiful and effective natural soap is both an art and a science, and Michelle applies her decade-plus of experience creating body care products to getting CleanO2's all-natural soap bars just right.
Michelle is a cosmetic formulator, artisan perfumer, Certified Blue Belt in Innovation Engineering, and a member of the Society of Cosmetic Chemists and the Handcrafted Bath & Body Guild of Canada. She oversees our talented team of soap makers and leads everything from the sourcing of natural ingredients that allow us to create responsible eco-friendly soap to testing innovative new formulations.
Michelle is also an award winning soap formulator. Check out the list of awards she has won for our beautiful soaps.
Awards List
Eco-Friendly Soap, Ingredients And Scents
CleanO2s carbon capture soap is made with other exciting natural ingredients besides sequestered carbon- we use all-natural ingredients to achieve wonderful scent combinations and colours in our soap.
See Our Ingredients