Price (USD)
Sale price
$46.00
Regular price
$55.00
Unit price
per
Sale
Sold out
Looking to make your bathroom more eco-friendly? Welcome to the world's first soap brand that actively cleans the climate (while you clean you!) Get our four most popular body bars (4-pack. Or get all eight of our soap bars (8-pack) and we'll also send you a bonus Soap Lift to mount your new found morning ritual.

Share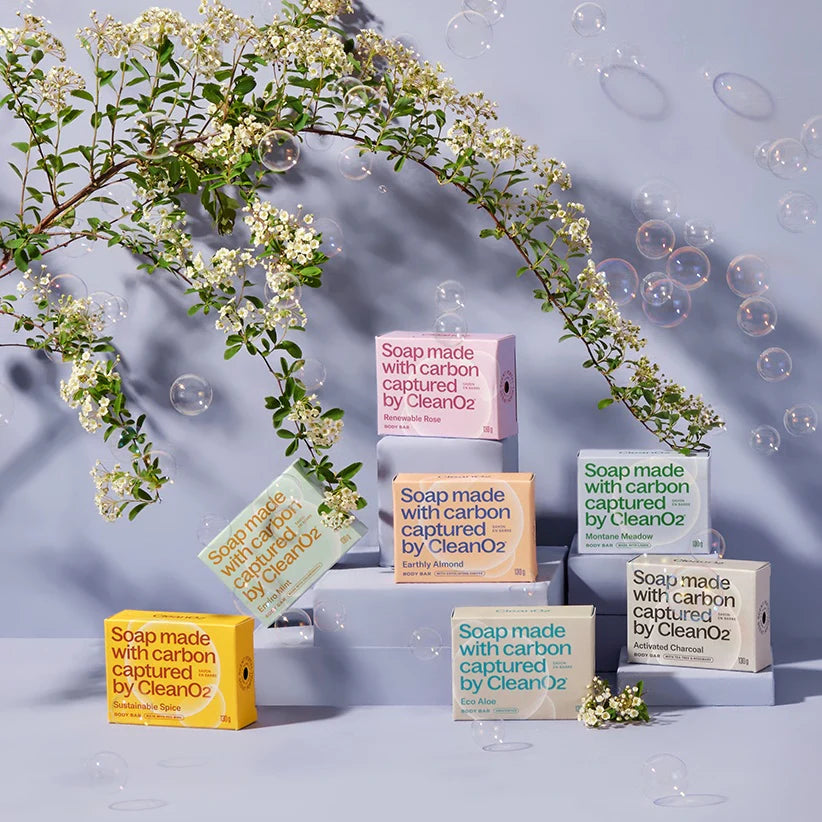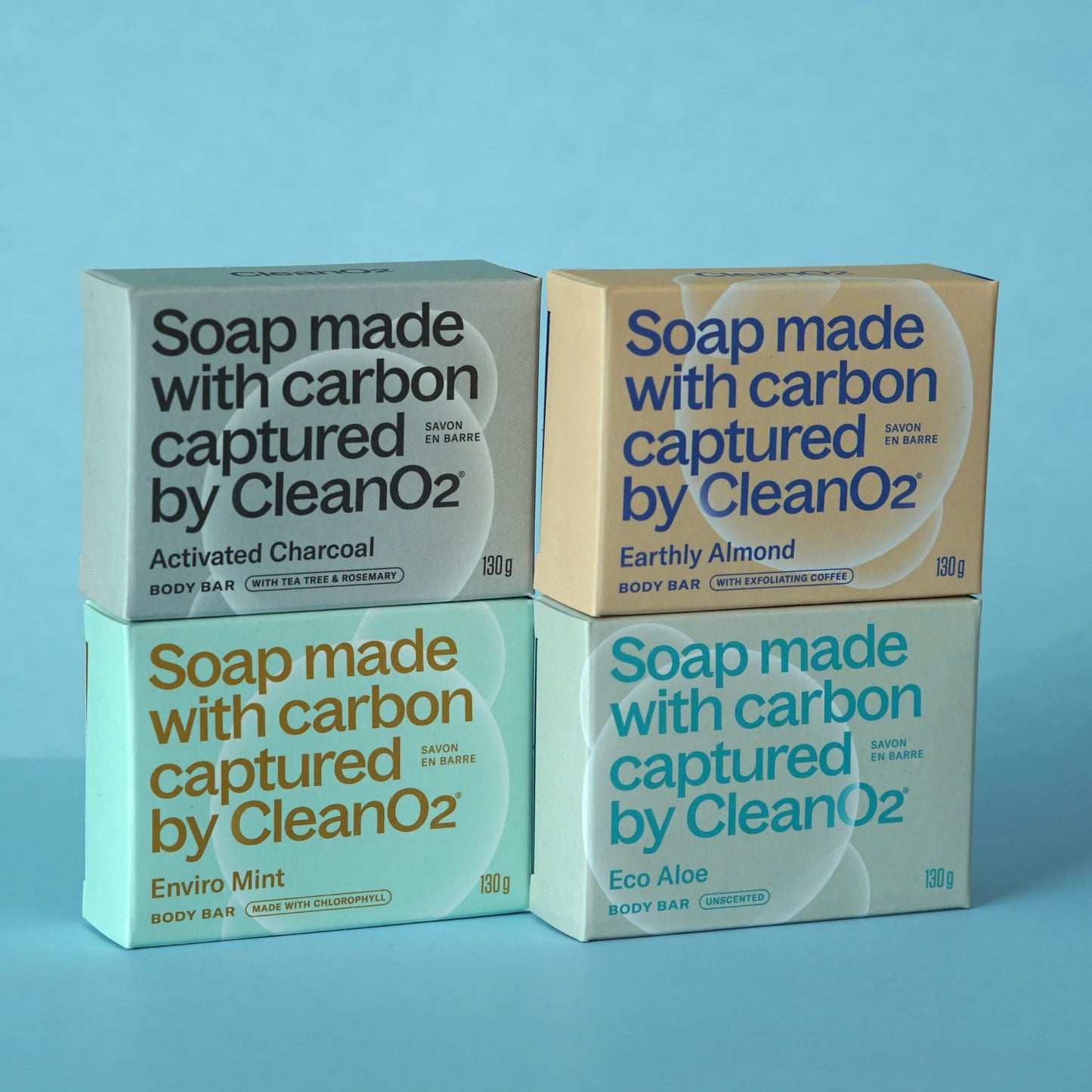 Get to Know Each CleanO2 Body Bar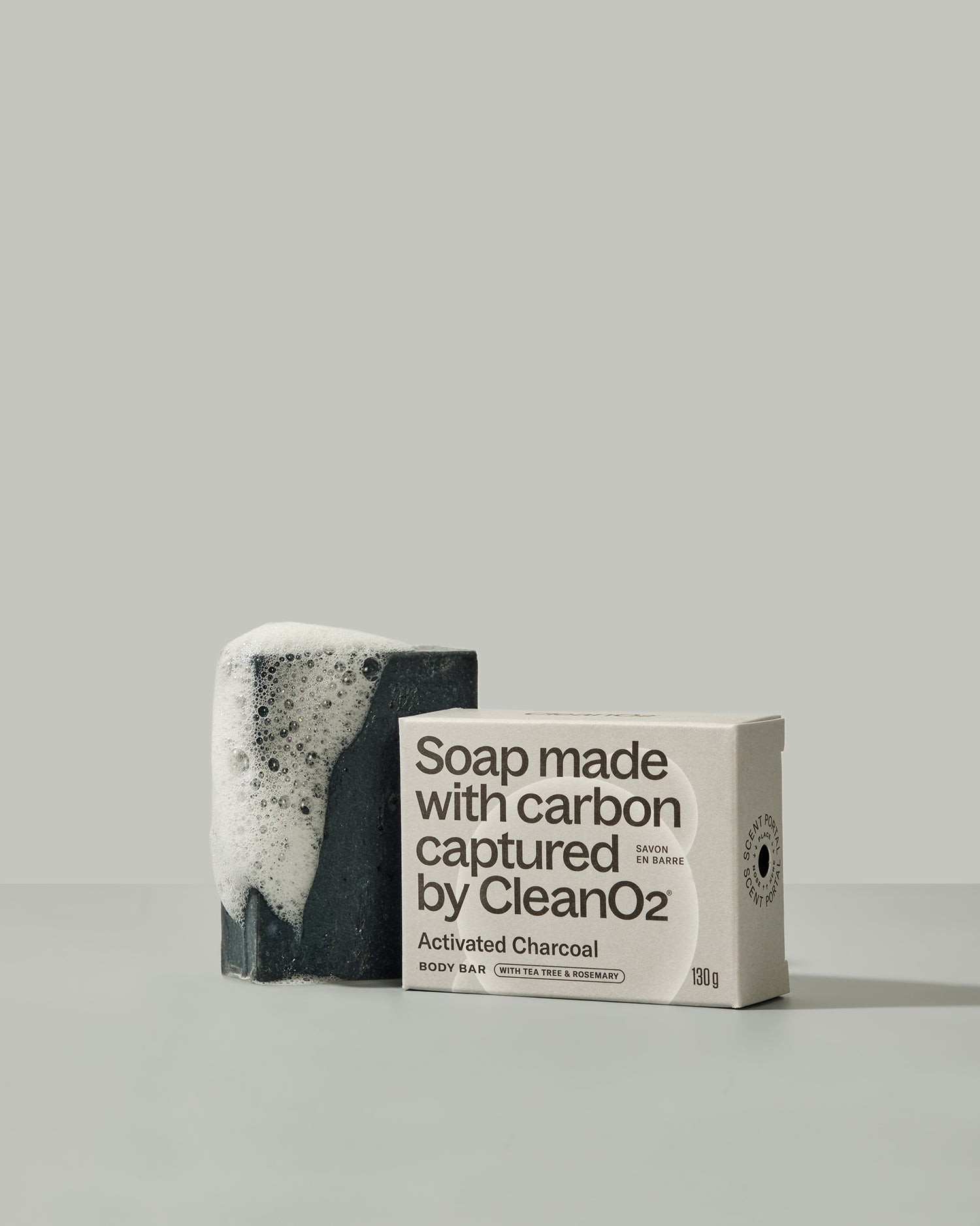 Activated Charcoal
The Activated Charcoal Body Bar is a great face and body detox and mild enough to protect skin from dehydration. It's made from bamboo, which is a sustainable source of charcoal. With the addition of clay, rosemary, spearmint and tea tree oils, this hand and body bar works a little harder to cleanse your skin.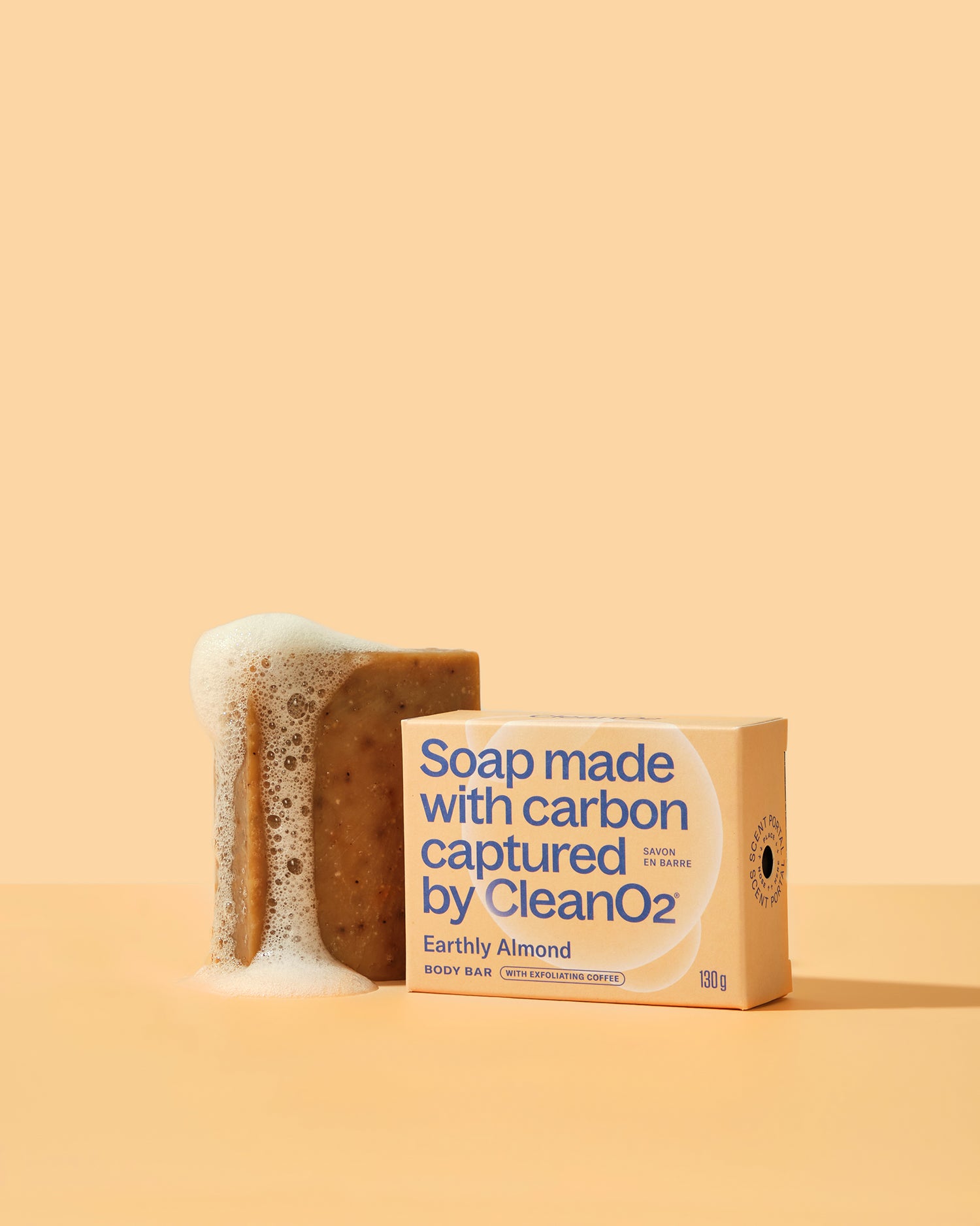 Earthly Almond
The Earthly Almond Body Bar is a sweetly scented vegan bar with added coffee grounds for exfoliation. The scent is complex and reminiscent of both almond and honey (neither of which are actually ingredients in this bar!). The Earthly Almond Body Bar contains potassium carbonate (captured carbon) and coffee.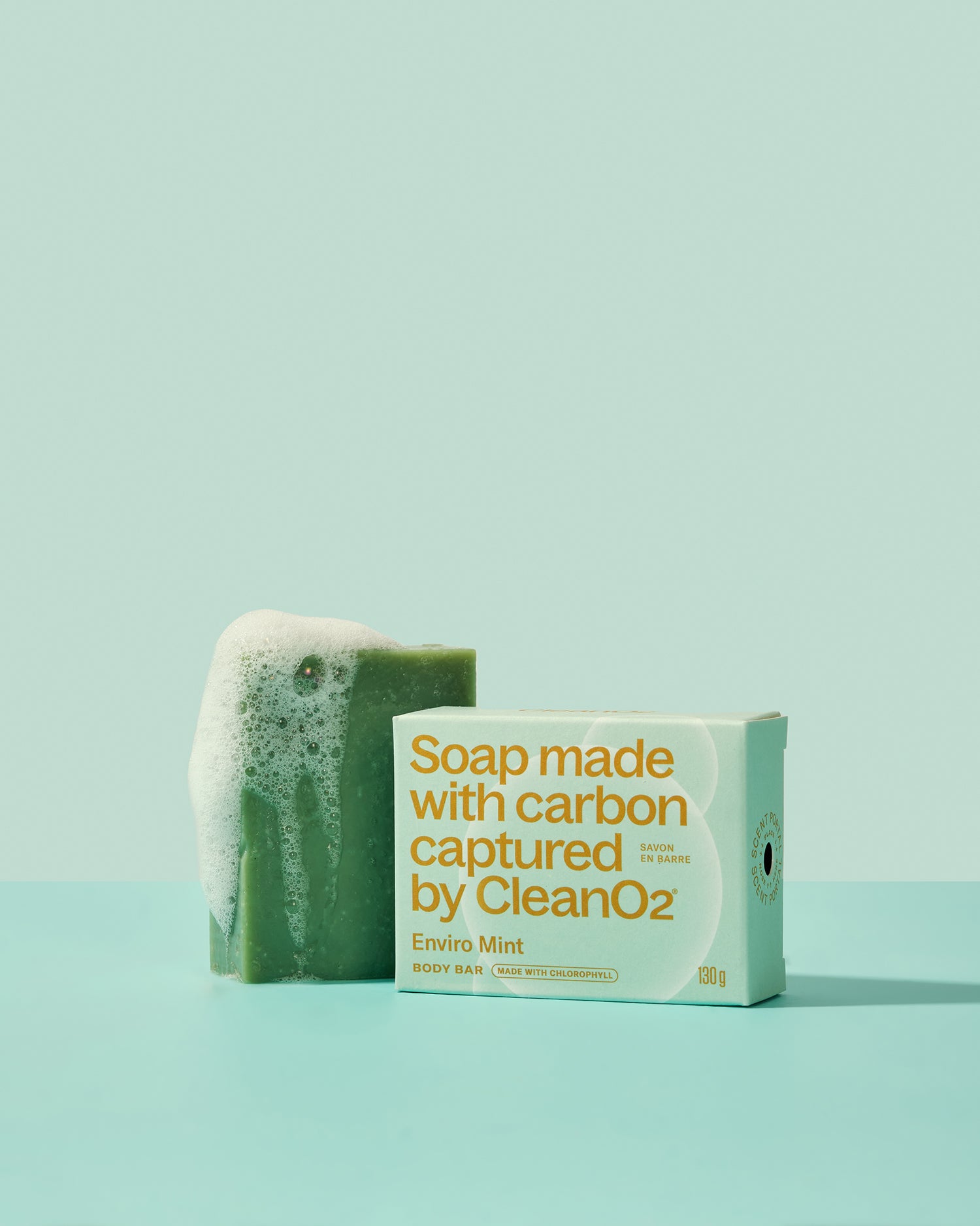 Enviro Mint
A crisp spearmint bar that's a perfect companion for your morning shower. Made with captured carbon, spearmint oil and chlorophyll.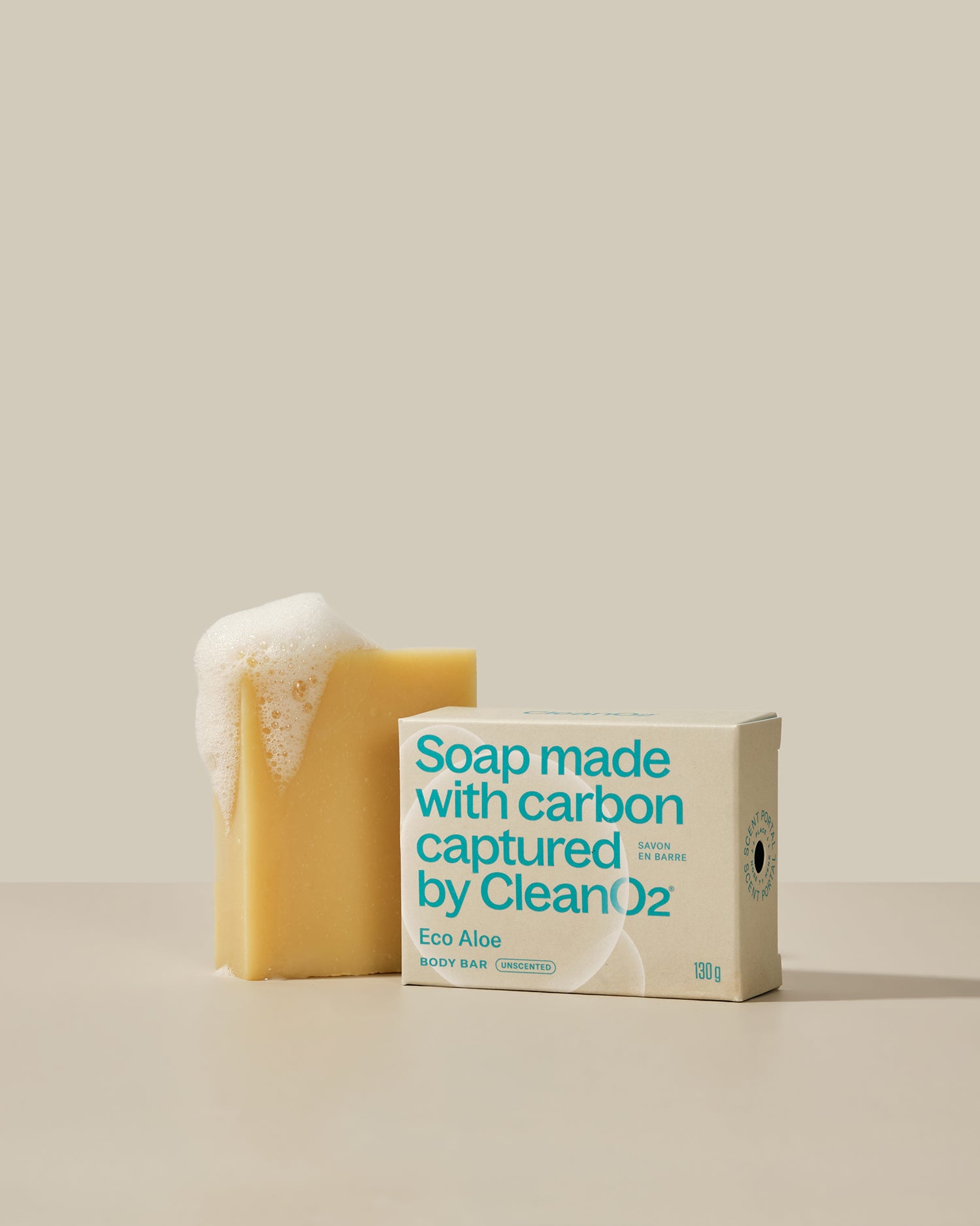 Eco Aloe
An unscented bar that provides a creamy moisturizing experience. Made with captured carbon, shea butter, aloe and coconut milk.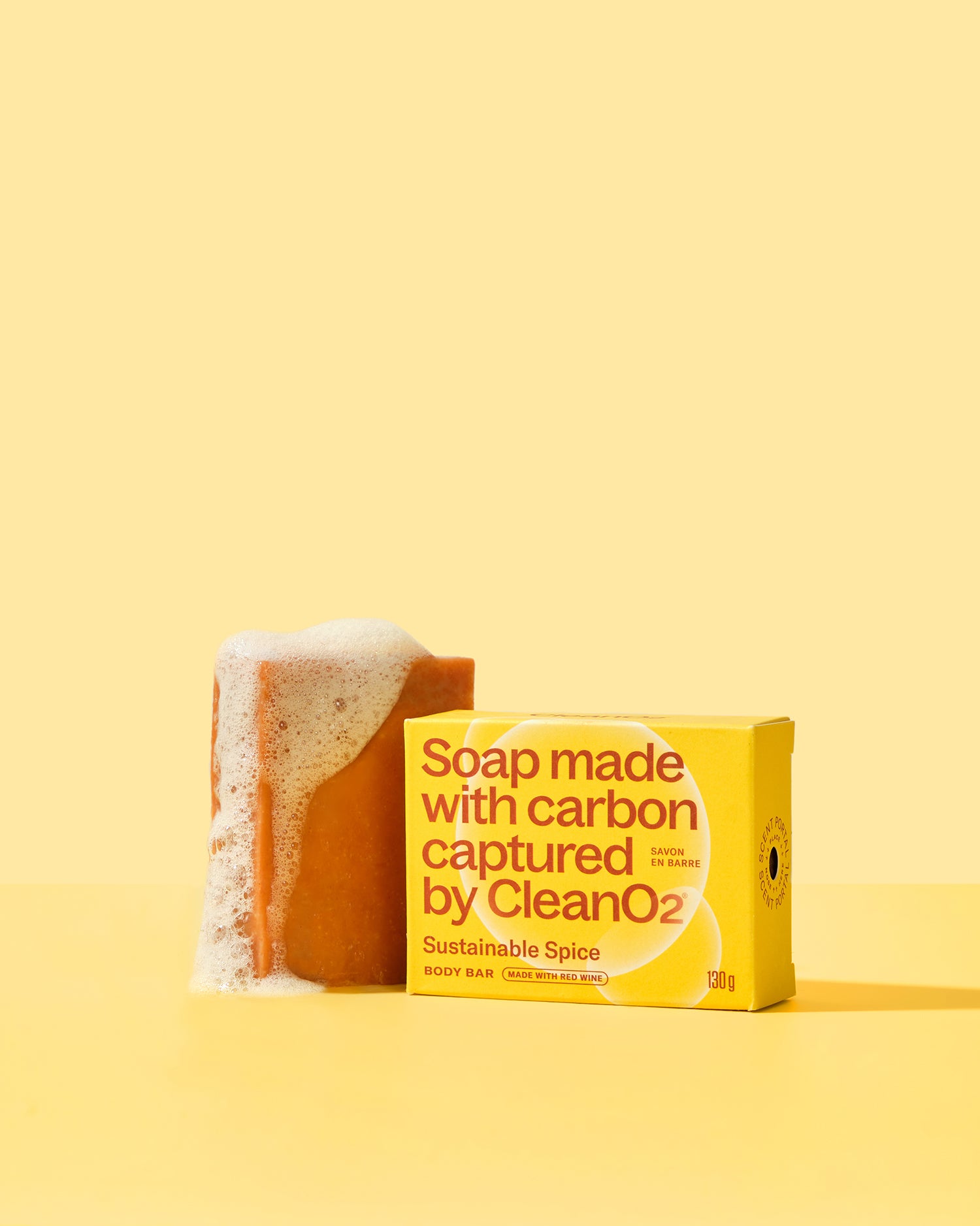 Sustainable Spice
The Sustainable Spice Body Bar is a complex but gentle-smelling bar, with the warming scent of spiced rum and oranges formulated on a red-wine base.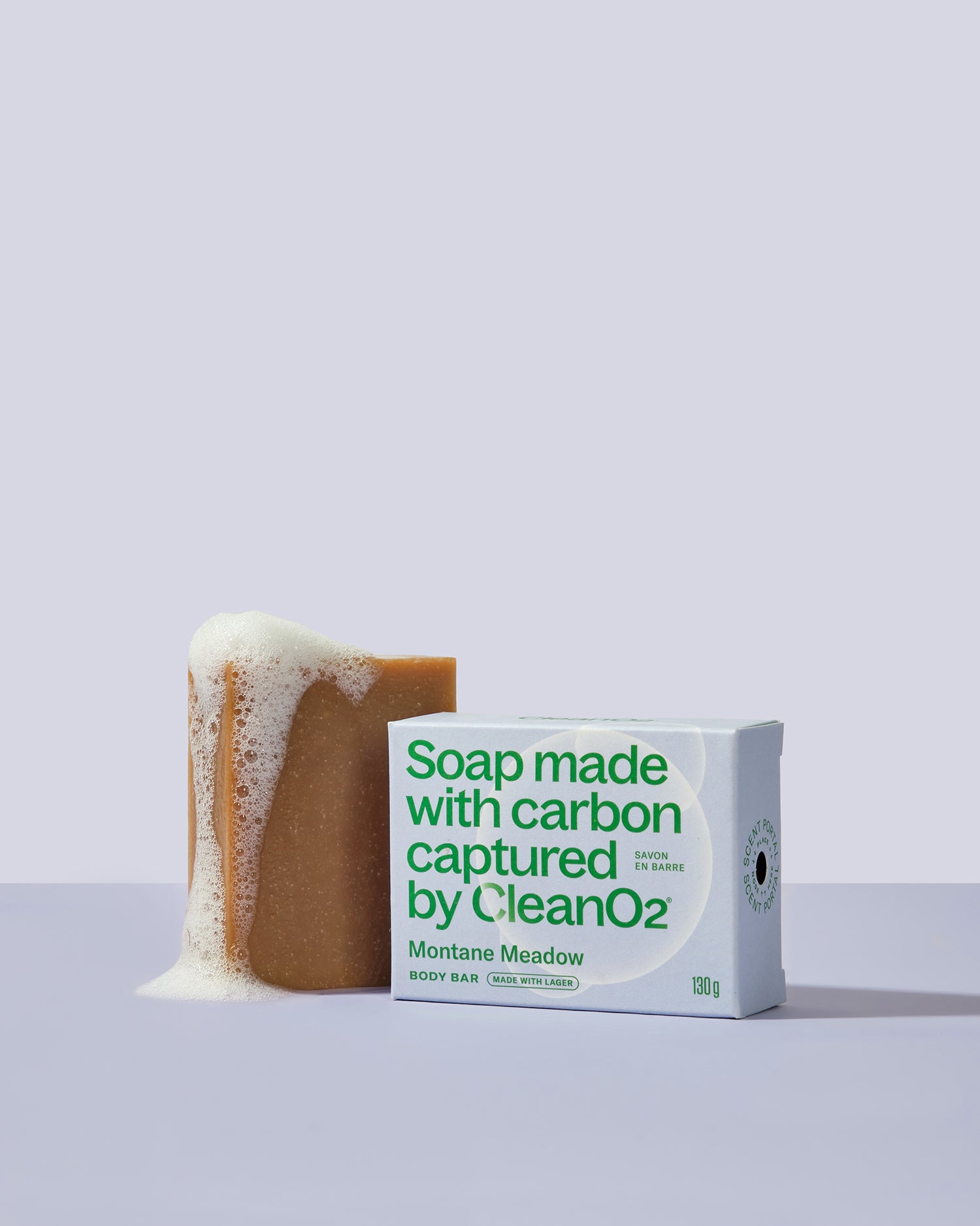 Montane Meadow
A beer-based bar with woody and floral notes combined to make a rustic natural scent. The Montane Meadow Body Bar is made from potassium carbonate (captured carbon), beer, lavender, pine and geranium oils.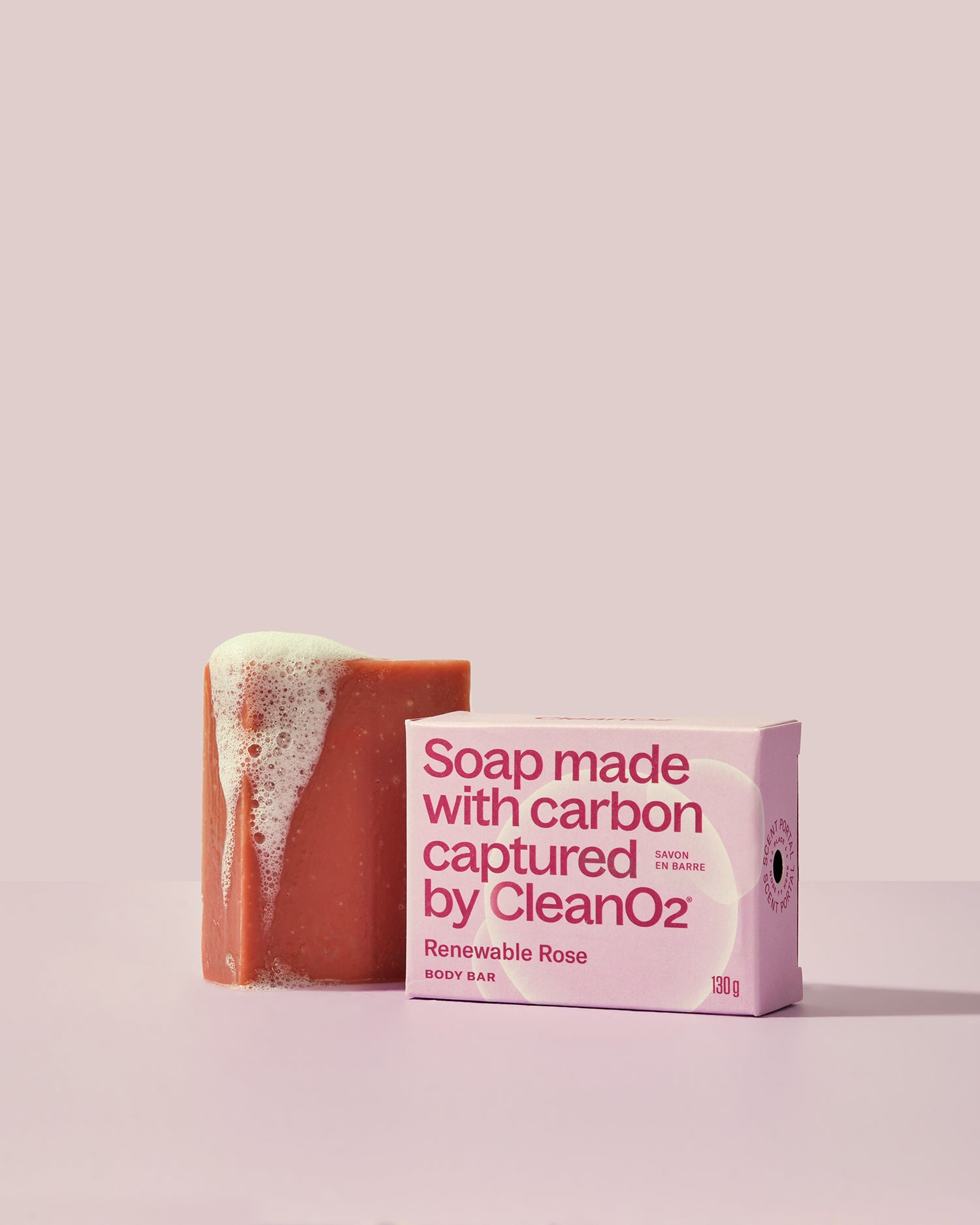 Renewable Rose
The Renewable Rose Body Bar is a soap with a wine base and a juicy scent rounded out by bold rose notes. The Renewable Rose Body Bar contains white wine and geranium oil infused with potassium carbonate (captured carbon).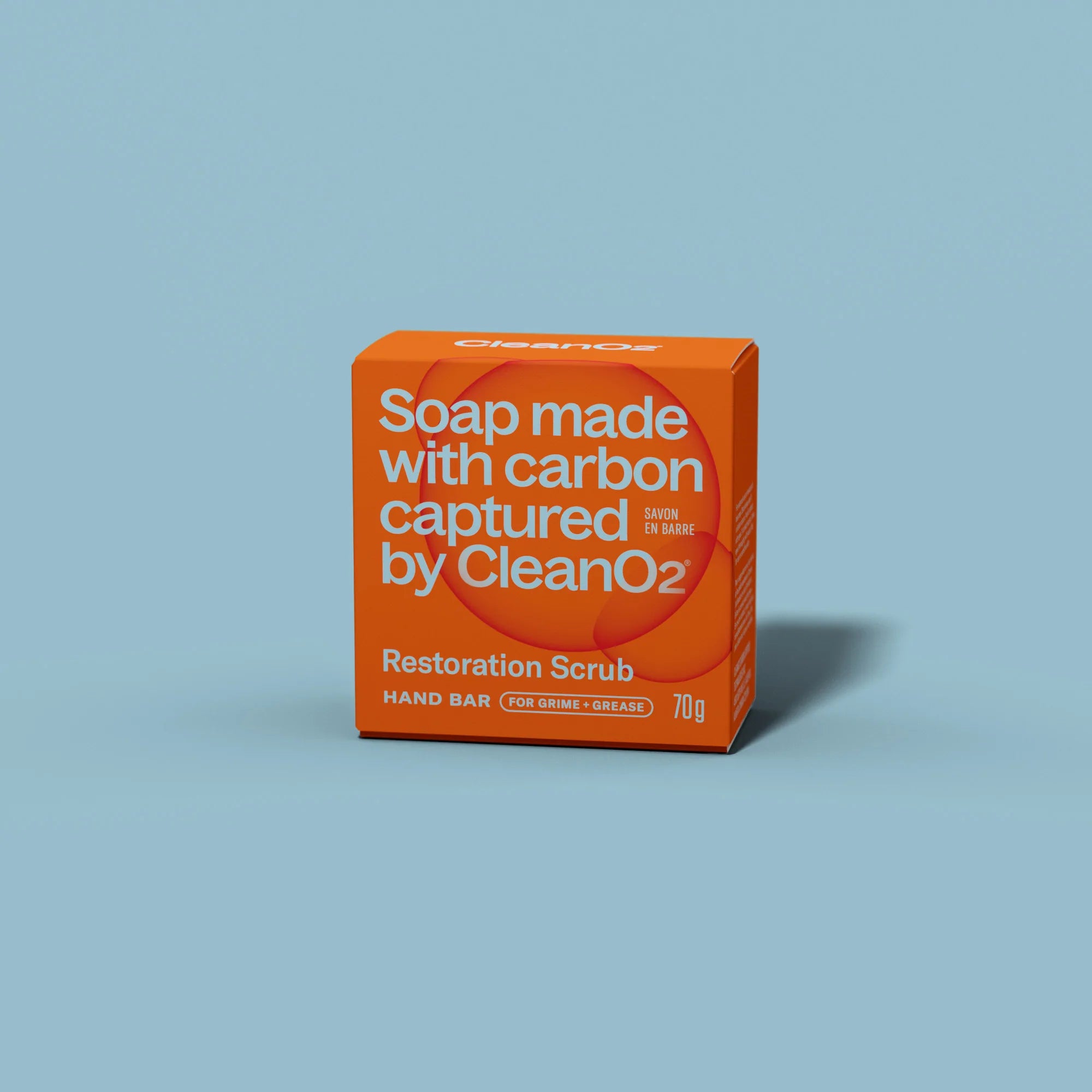 Restoration Scrub
For your toughest hand-washing challenges, this bar is loaded with coconut oil, pumice and charcoal that lift off dirt, grime, grease and even paints.
How it Works
Silky smooth, CO2-sequestering suds
❶

Capture

Behind each body bar is a new type of technology, CarbinX, that captures the greenhouse gas CO2.
❷

Convert

CarbinX converts the carbon from CO2 into pearl ash, which gives our soap a smooth lather. So every bar is climate action in progress.
❸

Clean

No part of the soap will ever "turn back" into CO2. You've done your part to reduce greenhouse gas emissions.
Something for Everyone

There's no common element in this bundle, aside from the fact that all these body bars contain potassium carbonate (captured carbon) and carefully selected natural botanical oils, so they lather like crazy. Some exfoliate. Some moisturize. And each one smells unique.

Sustainable Gifts for Her, Him, Them

CleanO2 soaps are great gifts for special occasions like holidays, Mother's/Father's Day, housewarmings or even a going-away present – there's nothing like the power of scent to trigger a fond memory.

Bonus: Free Soap Lift (Only in 8-pack)

Soap dissolves in water because that's what soap is supposed to do. But that results in a lot of wasted soap if the bar isn't dry between uses. That's where a soap lift comes to the rescue. It lifts your soap bar out of the water that pools in the bottom of soap dishes, trays and racks. So you get more use from your body bars.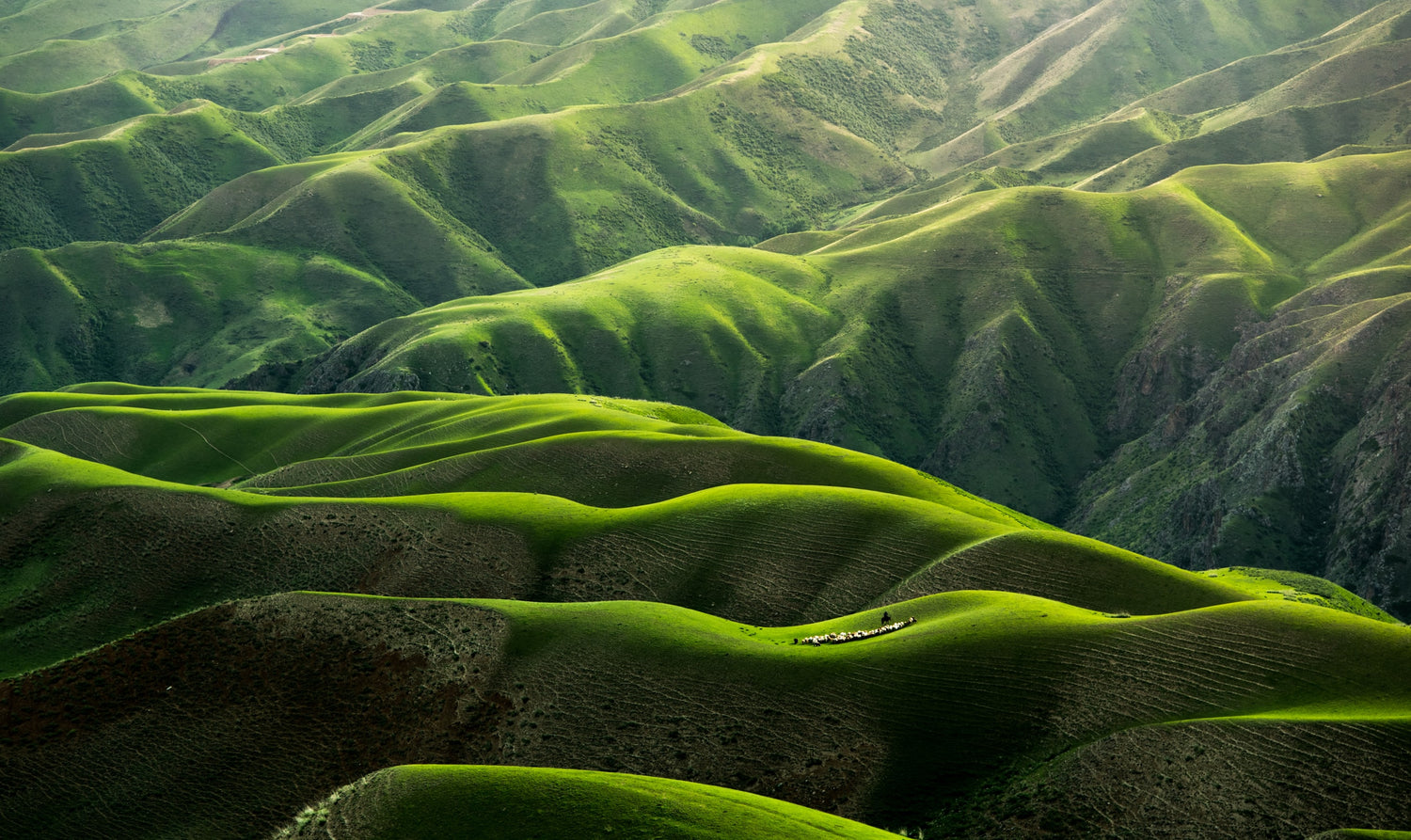 Why is CleanO2 the Best Bar Soap for the Environment?
Just like trees and other plants all across the world, we at CleanO2 have figured out how to pull carbon from the air and sequester it forever. Using our state-of-the-art technology, CarbinX, the carbon we capture is converted into a common and 100% safe ingredient called potassium carbonate (pearl ash). The CO2 is sequestered during extraction and will never be released into the atmosphere. This is the world's first carbon capture soap, made for you.
Learn More